Image by OpenClipart-Vectors from Pixabay
What do you truly want in your life?
What will happen if you don't go for what you truly want?
Take a couple minutes to reflect, with this video featuring Jordan Peterson:
Then, write down what you want to jump for and what came up for you by watching the video.
If you want to make the triple jump, you'd better be motivated. Aim high, and prepare.
"There are steps, and there are jumps, and there are leaps."
When you are transitioning to a position that you have not been in previously, you might have questions as to who will hire you.
Recruiters tend to have a lens of analyzing the coherence of a profile with three factors: Position, sector and country.
What most people do, and what seems coherent for most recruiters when you are switching jobs, is to move to a similar position, in the same sector, in the same country. We call this a lateral move.
If you move up on your position, in the same sector, and the same country, you can call it a step.
When you switch one of the three factors, whether position, sector, or move to another country, it is called a jump.
If you want to change the position, the sector and the country, you are going for the triple jump.
The triple jump doesn't happen overnight. One route to go is to switch one criteria at a time. Maybe you can start moving to your dream country for a similar position. After some time, when you have adjusted to your new environment and built a network, you can switch positions, or sector. And finally, you can take the last step which completes your triple jump. There is no right way to do this, you can do the triple jump in any order you find best. Which is the smallest step you could take?
The advice to make a triple jump happen, can also be seen as preparing for a leap. A leap is when you transform your life completely to move more fully into your life purpose for example.
"There is a difference between crazy and stupid. The difference lies in knowing when to jump."
The truth is there is no single way to do the jump. You need to create your own way. For the few who make the jump, each one has their own story. Mike Lewis has researched dozens of jumpers, just like him, when he left the comforts and promises of Bain Capital to fulfill his dream of becoming a professional Squash player. After reading this article, I recommend you continue your research by reading his easy-to read and compelling book When to Jump: If the Job You Have Isn't the Life You Want. .
All the stories will help you have faith in your project. If you want it deeply and sincerely, you can make it happen. You get to choose. One of the keys is to understand the Jump Curve (p. 13-15):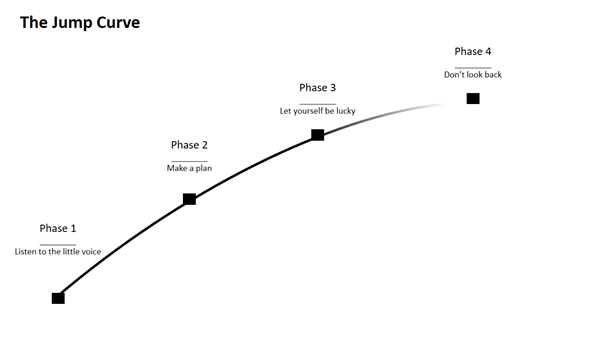 Phase 1: Listen to the Little Voice
You are: sitting at your desk, with an idea you'd like to jump for. You haven't done much – except possibly try to ignore that idea. You are becoming more willing to consider doing something about that idea.
Phase 2: Make a Plan
You are: deciding to take action around your idea. From jotting sketches on the back of a napkin to preparing a comprehensive budget, you begin tackling the nitty-gritty.
Phase 3: Let Yourself Be Lucky
You are: going for your jump. You have planned, dreamed and worried as much as you can. No jump can be fully predicted or planned out before it's made, so don't try to nail everything down in advance. You can't. By now, you have done everything you can. To jump means to accept that an unknown outcome awaits. If you've done all the planning you know of up until this point in your jump, and you're ready to run with whatever comes your way from now on, you'll be able to take this step forward. You're going to find your luck.
Phase 4: Don't look back
You are: clear that this jump was the best thing you ever did. Or you're unclear about whether or not it's going as planned. Or maybe it's become clear that this jump isn't working out. But in every case, you are pushing on, with this jump or toward your next one. You're not looking back.
A misconception most people have about motivation and confidence is that it is a requirement before taking action. The truth is: it comes as a result. Take action, do the work, and you will feel confident and motivated. Take the smallest step possible.
That being said, a little kick of motivation can help (as long as you don't binge on Youtube videos instead of doing the work). Want that kick? Steve Harvey can help you:
Internal jump vs. External Jump
A jump doesn't have to be towards a new organization. You can make an internal jump. That is how you can move from one position to another. To maximize your chances you need to create a strong network leveraging several aspects:
Ask for informational interviews, where you meet interesting people over coffee (or tea), and ask them more about their role in the organization
Build internal support, by asking your colleagues, boss and mentor for feedback, and telling them about your aspirations, what you love about your current role, and what you would like to change
Start by playing the role you aspire, before you even start. Who would you have to be to be selected for that position? What behaviors, dress code, and standards would you need to embody? Practice now.
The five frogs: who do you want to become?
Five frogs are sitting on a log.
They are contemplating the idea of swimming in the pristine and warm waters of this fresh and lovely lake.
But they are a bit scared that the jump might be frightening (the fear of being afraid).
Finally, four frogs decide to jump. How many frogs are left on the log?
How many?
Five.
Read again.
Four frogs decided to jump.
Deciding is not enough, you gotta act. Just do it. Think later.
(This story comes from The Prosperous Coach, by Rich Litvin & Steve Chandler).
As stated by Rahul Razdan who jumped from Financial Services Professional to Social Impact Entrepreneur (When to Jump, p. 146):
In 5 years, what do you want to say to yourself (and to others)?
"Hey, maybe this would have worked, maybe it wouldn't have, but I never tried."
Or: "Hey, I gave it my best shot, and here's what happened."
If you would like support for your Jump, reach out to me and tell me more.